Orbit


COLLABORATIVE VISUAL SPEAKER
ENVIRONMENTS DESIGN — SPRING 2021




DURATION
7 weeks
ROLES
Interaction Design
Conceptual Design
Visual Design
Hardware & Product
Project Management
TEAM MEMBERS
Dorcas Lin
Franklin Guttman
Tay Aras
OVERVIEW
Orbit is an interactive wall speaker that enables users to collaboratively create a visual representation of their relationship over time through music sharing and reacting.
Orbit uses a combination of audio, physical interactions, and visual projections to help users co-create an abstraction of their relationship.
THE BRIEF
Designing for remote social presence

How can we create remote social presence in digital, physical and/or hybrid environments? Design an environment or an object placed in an environment to investigate this question.
---
OUTCOME
An Orbit Story︎︎︎
EXPERIENCE WALKTHROUGH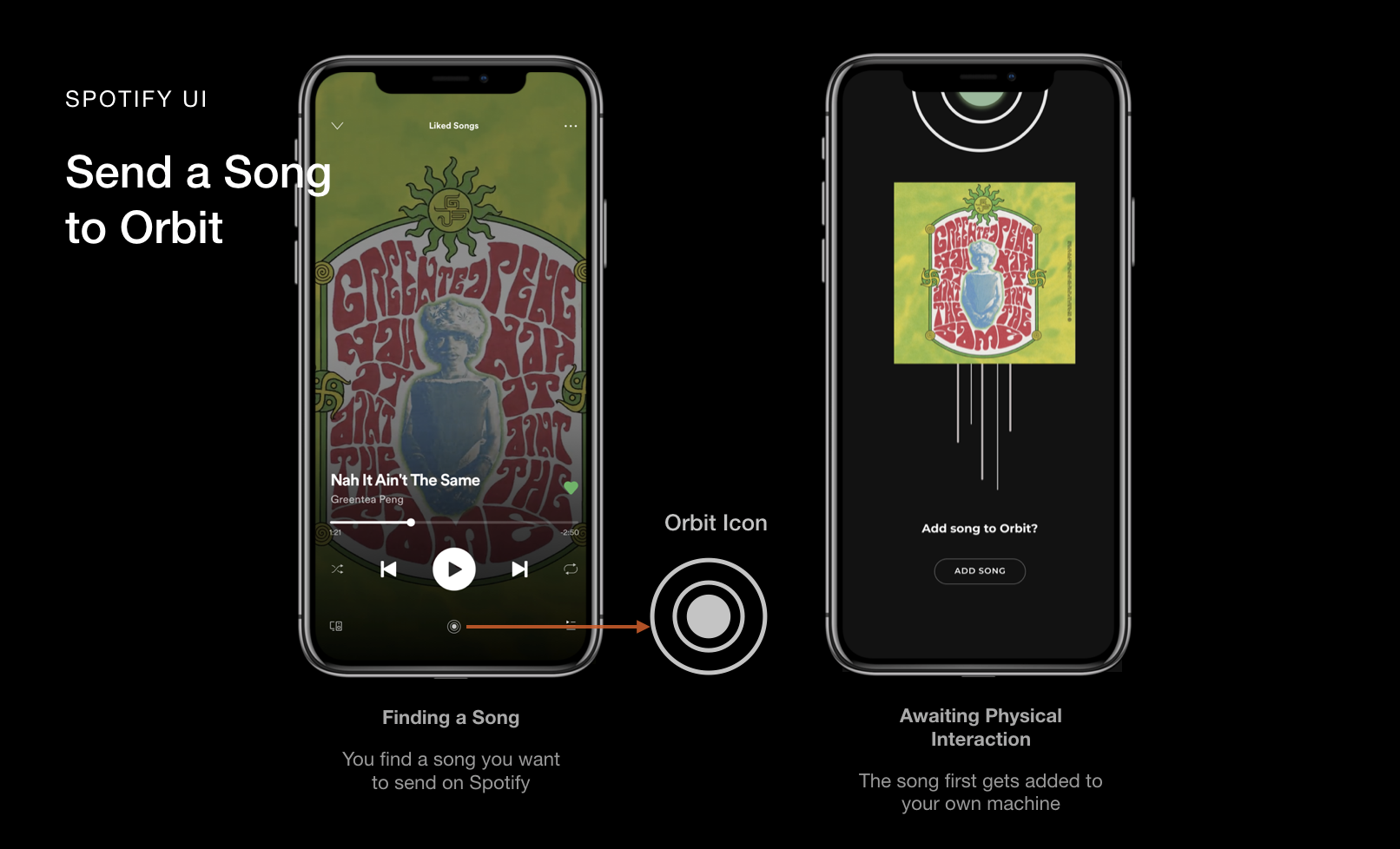 01 Discovery

Person A finds a song they like and adds to their own Orbit. They shake and move the center control to visually indicate why they are sending the song before the song and visual changes are sent to Person B.
02 Spontaneity

Person B's Orbit begins to glow, indicating that a song is in queue from person A. They push the control in and watch as the projections change while the song plays.
03 Co-Creation

After the song plays all the way through, Person B moves the center control to indicate what they think of the song which contributes to another visual change in the projections for both Person A and B.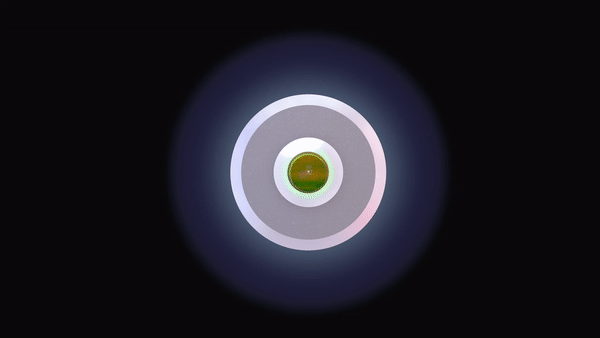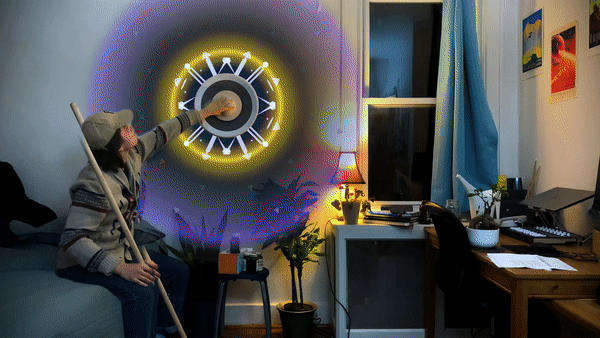 04 Nostalgia

At any point, both people can rewind their Orbits to see how they've visually grown over time in their relationship.
---
RESEARCH
Initial Question
How can we preserve close relationships impacted by a lack of in-person interaction over time?


We interviewed people between the ages of 20 to 80 about how their relationships have evolved.



KEY INSIGHTS
🛠 Relationship Maintenance vs. Repair

Relationships are messy, there are fractures that can be exacerbated by a lack of communication
⏱ Sponteneity in an Optimization-Driven World

How might we create space for spontaneous joy in an optimization-driven society?
💃🏻🕺🏻 Shared Interests + Meaning
How might we encourage two people to preserve their relationship over time through shared interests?
PRE-EXISTING INTERVENTIONS
Love Languages + Shared Experiences
After differentiating "maintaining" a relationship vs. "repair," we looked into everyday expressions and tools people use to build and bond whether with themselves or with others. We mapped out this process in a series of interactions, inputs, and outputs.
---
---
INTERACTION GOALS
Multi-sensory & familiar interactions through media and touch

Meaningful & complete conversation

"Conversations" that resonates likewise to in-person communication but through a parallel avenue of experience
USER JOURNEY MAP
Designing in individual & collaborative touchpoints
VISUAL SYSTEM // GROWTH OVER TIME
PHYSICAL SYSTEM
Because each movement results in a change in the visual projections, we wanted the central command to be a easy way for users to develop a visual/physical language with each other. The motion and interaction isn't intended to be second nature, but we narrowed down our commands down into four encapsulating emotions and one movement for the rewind.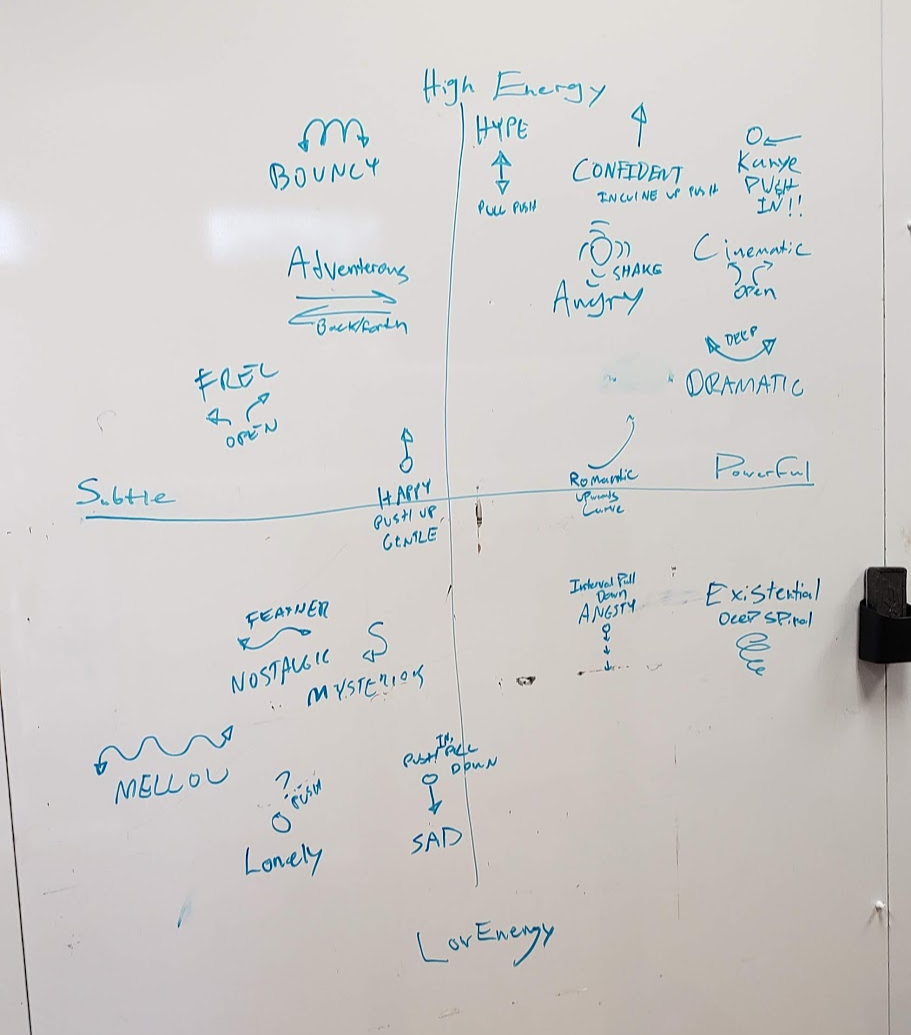 Emotion in Motion

---
FORM GOALS / WHY A WALL SPEAKER?
Home-based vs. Object-based

Consistent presence vs. portable presence

Visual metaphor of growth records, tree trunks
Building together
FINAL FORM
Lots of foam, speaker fabric, arduino parts, lasercut wood later...
---
---
REFLECTION
🐣 Form & interaction development occur synchronously

What came first: the chicken or the egg? We spiraled for a few days in the process because we couldn't decide whether to work on the form first or the interactions. Eventually, we realized that we just had to start making and make mistakes to have it come together.
💪🏼 Teamwork allows for breadth and depth

This was our first time working in a team on any studio project, and it worked like a dream because we were able to prototype and create every part of the user journey for a full experience without abstracting away details or interactions due to time constraints.
📣 Poor storytelling can make or break your product
Our project has a lot of components that we found to be difficult to explain all in one go. We couldn't quite figure the best way to communicate our ideas since we were so embedded in the process, but after practicing with other people over the 7 weeks, we were able to build a compelling story and narrative with the details of Orbit